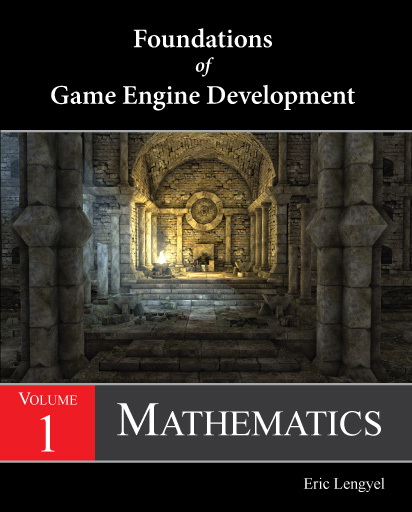 Volume 1: Mathematics
Release date: August 2016
ISBN: 978-0-9858117-4-7
Full color · Soft cover
Approximately 200 pages
Volume 1 book will begin with conventional treatments of topics such as linear algebra, geometry, and transforms. Then, it will introduce Grassmann algebra and geometric algebra to provide a much deeper understanding of the subject matter and highlight the places where traditional arithmetic with vectors, matrices, quaternions, etc., isn't quite correct.
Below is a tentative table of contents listing most of the important topics that will be covered in the book. Each chapter will go into great detail and include extensive problem sets.
Chapter 1: Vectors and Matrices
Basic vector operations
Basic matrix operations
Dot product, cross product
Scalar triple product
Vector projection, rejection
Orthogonalization
Matrix inversion
Determinants
Chapter 2: Transforms
Transformation matrices
Orthogonal transforms
Rotation, reflection, scale, skew
Homogeneous coordinates
Quaternions
Chapter 3: Geometry
Triangle meshes
Normal vectors
Lines and rays
Planes
Plücker coordinates
Chapter 4: Advanced Algebra
Grassmann algebra
Wedge product, antiwedge product
Bivectors, trivectors, antivectors
Dual numbers
4D geometry, lines, planes
Meet and join operations
Geometric product
Vector division
Rotors